What are the Paid Traffic Courses?
Previously known as Experts Academy, our paid traffic courses are video tutorials that teach you how to promote your products online on some of the most popular paid ad networks.
This includes networks such as Facebook Ads, Google Ads, Instagram Ads, YouTube Ads, Twitter Ads and so on…
As long as you are on the Standard or Pro plan, you will have access to these courses.
The information contained in these courses is used by many by 7- and 8-figure entrepreneurs and small businesses to take their advertising to the next level – and you can too.
To access the Paid Traffic Courses, simply click on
Learn
in the navigation menu
and select "Paid Traffic Courses":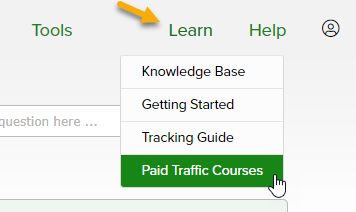 Each of these courses has a value of about $200 each, but we've licensed them so that you can use them here for free. Enjoy!
Note: This was previously called "Experts Academy", but we decided to be more specific in what the courses are about, so we changed it to "Paid Traffic Courses".
Article 545 Last updated: 01/05/2021 1:11:51 PM
https://www.clickmagick.com/kb/?article=545