How Do I Send Conversion Data To Microsoft Ads Using Zapier
You can use Zapier to send conversion data from ClickMagick Campaigns to your Microsoft Ads account instantly using Google Sheets.
To make this work you will need to follow the steps on using Audience Optimization with Microsoft Ads.
To get started with setting that up, view the article below:
What is Audience Optimization and how do I use it?
Step 1 - Create Your Google Sheet
Inside of Google Sheets, you'll want create a new Sheet.
The name of your Google Sheet can be anything you want but to keep things simple just name it Microsoft Conversions.
In your Google Sheet you want to create the following header row:
Microsoft Click ID, Conversion Name, Conversion Time and Conversion Value which is optional:

Next, you'll want to get your File URL.
To do this do the following:
Click File and select Share and Publish to the web, select CSV and click Publish.
Copy the generated link
Step 2 - Scheduling Your Imports
Inside your Microsoft Ads account click on the "Tools" menu and select "Offline Conversions" as shown below: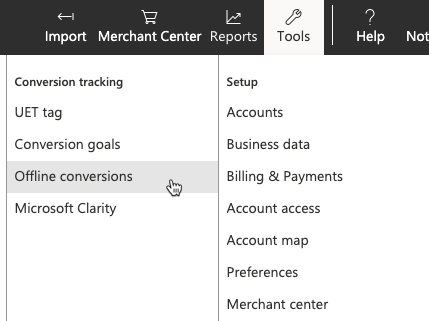 Select "Schedules" and paste the URL you copied from Google Sheets into the File URL input.
Select your Upload Frequency and time zone and then click on Save: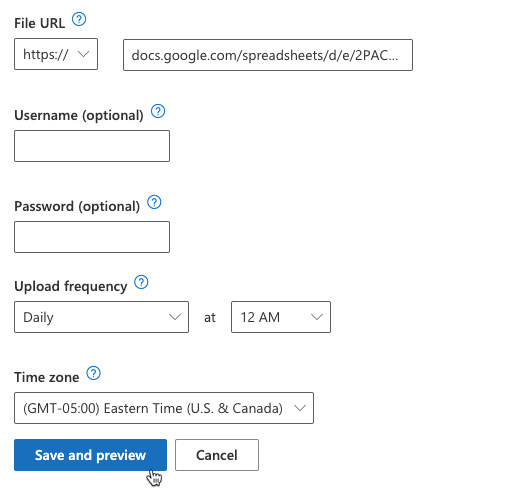 Step 3 - Integrate Your Zapier account with ClickMagick
Click here to import the Zap into your Zapier account
The steps below outline how you'd edit the Zap for your account.
Inside of Zapier, you'll create a new "Zap" with the App being "ClickMagick" and the Event being "New Campaign Project Sale"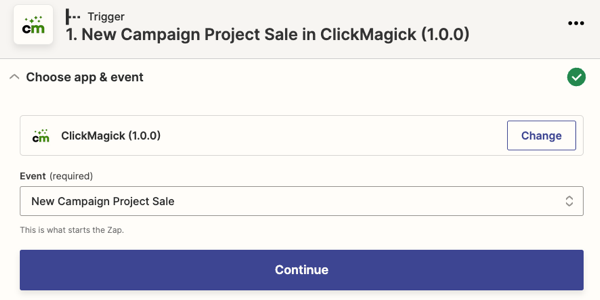 You'll be asked to integrate your ClickMagick account with Zapier using your API Key which you can by clicking on the "Generate API Key" from the API page: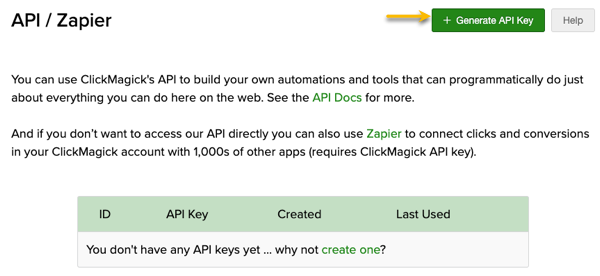 Once you have the accounts integrated, select your Campaign project and leave the Attribution Model as Last Click
Next, you'll add your first of two actions.
The first action will be "Filter by Zapier" and the filter will be used to continue the zap only if a
msclkid
: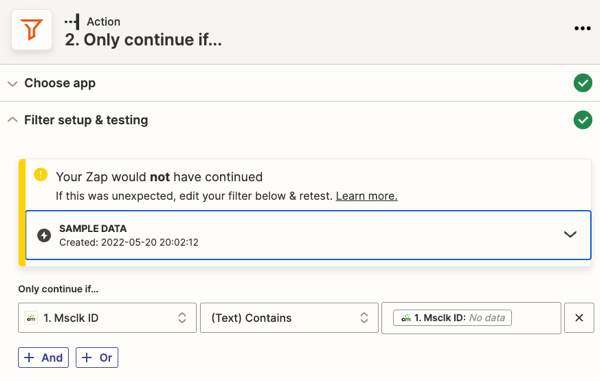 You can select the
Msclk ID
option from the drop down in both options.
The final action you need will be for Google Sheets.
App:
Google Sheets
Action Event:
Create Spreadsheet Row and you'll have to select the Google Sheet you created in Step 1.
Microsoft Click ID:
Insert the
Msclkid
from ClickMagick.
Conversion Name:
Insert the name of the Conversion Action you created in Microsoft.
Conversion Time:
Insert the
Timestamp
from ClickMagick.
Conversion Value:
Insert the
Cmc Amt
from ClickMagick.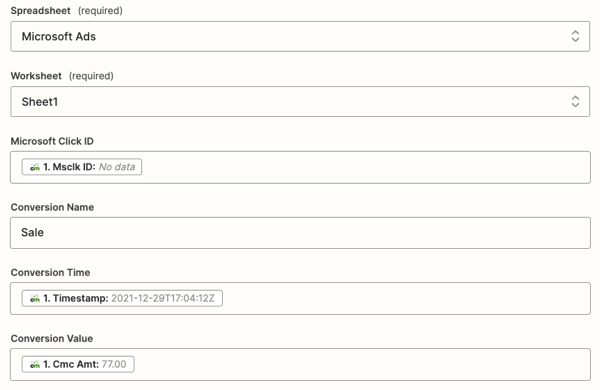 Once done, just click "Continue" and turn on the Zap.
That's it.
When you get conversions, the conversions will be automatically sent to your Google Sheet and uploaded to Microsoft Ads
Article 774 Last updated: 06/08/2022 4:10:38 PM
https://www.clickmagick.com/kb/?article=774