Error Message: Not a valid Link/Rotator Link Slug
This error message means that you've used a link or rotator link slug that does not exist in the account.
If you recall, when you create a tracking link (or rotator link), you need to specify a link slug that you
must
use on the end of the link for it to work correctly: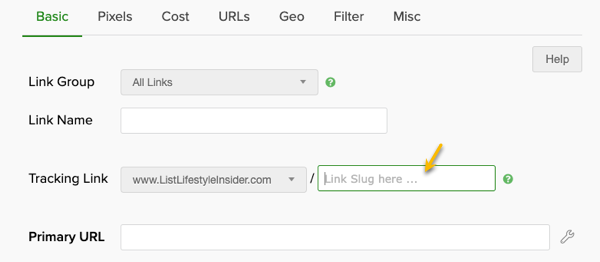 If a click is delivered to your account and the link slug does not match any link or rotator in your account, you will get the "not a valid Link/Rotator Link Slug" message.
Note: Link slugs are case insensitive so /golf and /GOLF will both refer to the same link.
Common Reasons for this Error
You can get this error for a variety of reasons:
| | | |
| --- | --- | --- |
| 1. | | There's a typing mistake in your Link Slug or Rotator Link Slug ... |
| | | |
| --- | --- | --- |
| 2. | | You've deleted the link so it literally does not exist anymore ... |
3.
You've recently changed the username for your account, but you forgot to update your links to use the new username. Remember that your generic links contain your username:

https://www.clkmg.com/[USERNAME]/linkSlug

Also, if you've changed your username and you're using Script Forwarding, you'll need to regenerate the two control files you created before. You can do that here:

For more information on nonexistent or invalid Link Slugs, read through this article:
What should I do about clicks to nonexistent links?
Article 331 Last updated: 05/19/2022 1:08:31 PM
https://www.clickmagick.com/kb/?article=331