Can I get an invoice?
You sure can!
To generate an invoice, simply go you your
Billing Page
by clicking on the
Account
menu at the top of any page and choosing the
Billing
option.
You will find a link to an invoice next to each payment that you have made. Just click on the link and print off your invoice.
If you need to customize the invoice, you can do that too by clicking on the link to the right of of the
Billed to
line: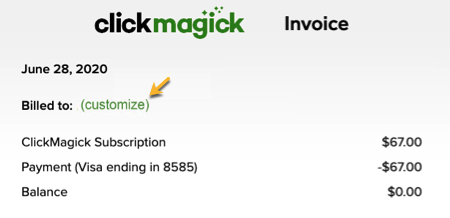 Note: If you change from one plan to another plan with the same billing cycle (i.e. from a monthly plan to another monthly plan), your billing date will remain the same and our system will automatically generate a prorated invoice.
Article 259 Last updated: 11/20/2020 11:06:28 AM
https://www.clickmagick.com/kb/?article=259