Can I send custom emails to people I send traffic to?
Absolutely! When setting up a rotator you can enter both a custom "start" and "finish" message that will be optionally sent to users when their traffic starts, and again when delivery is completed.
To set up these messages, just create or edit a rotator and select the "Emails" tab. There you'll be able to enter a custom email Subject, Body and Reply To address for both the "start" and "finish" messages.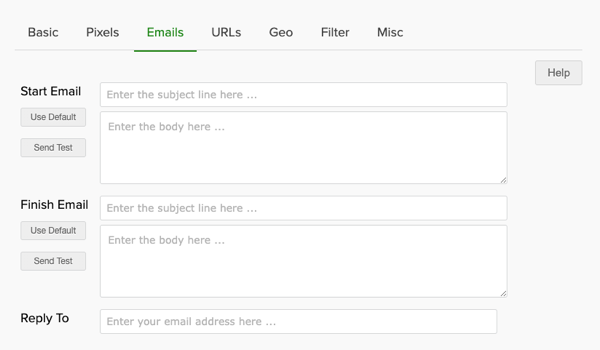 For the body, note that you can enter either a plain text message (generally more personal) or a fancy HTML email message (possibly more "professional") depending on your business and what you prefer.
If you do want to use HTML emails, just create the HTML content you want to use in your favorite editor (via your autoresponder, page builder, etc.) and then simply cut and paste the HTML into the Body area.
Either way, there's a special
[stats_url]
token that you'll probably want to use in your emails.
It does just what you'd imagine – wherever you use this token in your emails it will be replaced with the unique Public Stats URL that your client can use to check their stats.
When you're done, be sure to click the "Send Test" link which will instantly send a copy of the email to your email address so you can make sure it looks the way you want.
Once you've set up your rotator emails, you can start using them by simply entering the optional "Client Email" in the Notify tab of the rotator URL when adding individual clients or URLs to your rotators:

If you enter the client's email address then your custom messages will be sent, and if you don't enter an email address, then no emails will be sent. Simple as that!
If you want to be notified when your client has received all their clicks, choose Yes for the "Email Me" option in the Notify tab of the rotator URL settings.
Note: Because we're sending these emails on your behalf, we do need to monitor them and we review each custom email that you set up. Hopefully it goes without saying but please do not attempt to use our system to send any "spammy" or otherwise inappropriate emails. Thanks!
Article 281 Last updated: 05/19/2022 11:22:45 AM
https://www.clickmagick.com/kb/?article=281