How do I prevent a page from recording a Tracking Link conversion?
If you have a more complicated funnel with multiple upsells or downsells, you may have a situation where users end up on the same Thank You page whether or not they've purchased the previous offer.
In a case like this, if you simply put a tracking pixel on the Thank You page, it will always record a conversion even when the user didn't buy anything. That won't work.
To handle this situation properly—where you have more than one link to your Thank You page and not all of them are because of a conversion—you'll need to put your tracking pixel in the converting links themselves rather than on the Thank You page.
Here's how ...
ClickMagick allows you to embed tracking pixels in tracking links, so in this case, you would create a tracking link that points to your Thank You page and insert your tracking pixel in the Pixels setting of that tracking link: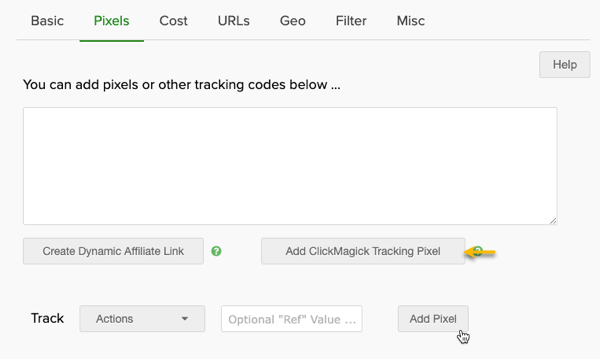 Next, you would use this new tracking link whenever you wanted to redirect to your Thank You page and record a conversion. You would then use a simple (non-tracking) link to point to the Thank You page for cases where you don't want to record conversions.
With this setup, a conversion is only recorded if the user actually purchases that particular upsell or downsell and is redirected to your Thank You page through the tracking link with the embedded pixel.
For more information on ClickMagick's Pixels setting for links and rotators, read this article:
Note: Make sure that your conversion attribution setting is set to "Last Click" for all of the tracking pixels you create. This is the default setting—just don't change it.
Article 401 Last updated: 05/19/2022 3:43:40 PM
https://www.clickmagick.com/kb/?article=401