How do I set up tracking with WarriorPlus?
Tracking your sales with WarriorPlus, either as a vendor or as an affiliate, is a simple two-step process …
Step 1 – Add your ClickMagick WarriorPlus Postback URL to your WarriorPlus account
WarriorPlus uses the term "Notification URL" for vendors or "Webhook (IPN) URL" for affiliates, rather than Postback URL like most other affiliate networks, but just know they all mean the same thing.
Your WarriorPlus Postback URL: https://www.clkmg.com/api/s/wp/?uid=[USERID]

If you're a vendor
, navigate to your "Integrations & Tracking" screen in WarriorPlus, and enter the URL shown above: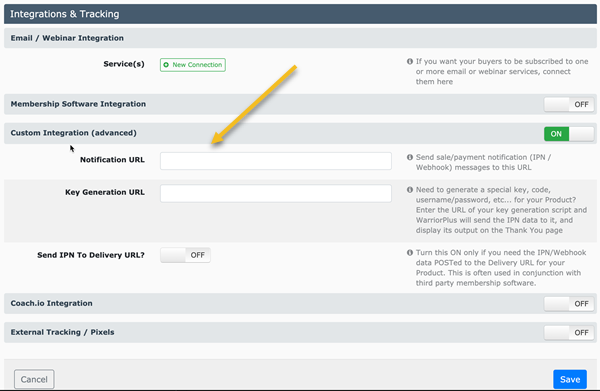 If you're an affiliate
, you need to add your Postback URL to each offer that you're promoting. Simply pull up the offer and enter your Postback URL above in the field that says "Webhook (IPN) URL (optional)" as shown below: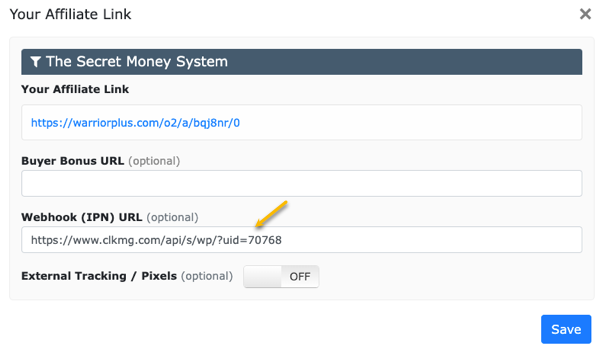 Step 2 – Add the "Affiliate Click ID Parameter" to the end of your WarriorPlus link
When setting up tracking links for your WarriorPlus offers, just enter your standard WarriorPlus link as the Primary URL. Then select "Add Affiliate Click ID Parameter" from the Tools icon, select WarriorPlus, and ClickMagick will automatically modify your link as needed.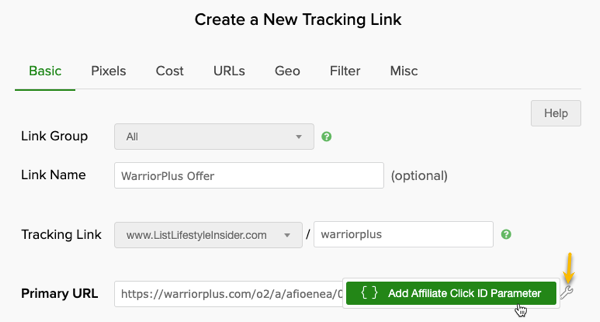 This won't affect how your link works – it simply appends the tracking parameter that's necessary to track your sales.
Be sure to save your new tracking link and you're good to go!
If you are using Campaigns,
then you'll want to use the
Affiliate Link Builder
Set the "Network" to WarriorPlus, "Tracking Type" to Campaigns, and enter your affiliate link:

Click "Update" and then copy the updated affiliate link to use on your landing pages or thank you pages:

That's it! You are now setup to start tracking your WarriorPlus sales when using ClickMagick.
Article 425 Last updated: 08/30/2022 3:04:00 PM
https://www.clickmagick.com/kb/?article=425