Step 1 – Set Up Your Custom Audience
You'll generally want to set up one new "exclusion" custom audience per Campaigns Project, at each of the ad networks you advertise on. Then just tweak your existing ad targeting to exclude this new custom audience, and be sure to exclude this audience on any new ads that you set up.
If you're already familiar with custom audiences, this shouldn't take more than a few minutes.
If you're not already using ad network custom audiences to better target and optimize your ads, you really should be, so learning how to do this will be time well spent. Here's how to get started with custom audiences …
Google Ads - About Custom Audiences
Microsoft Ads – Custom Audiences
Facebook Ads – About Custom Audiences
Taboola Ads - About Custom Audiences
MGID Ads - About Custom Audiences
Outbrain Ads - About Custom Audiences
Pinterest Ads - About Custom Audiences
TikTok Ads - About Custom Audiences
Step 2 – Set Up Your Exclusion Page
Most users will just need a single Exclusion Page per Campaigns Project, and this page should probably just redirect back to your main landing page after 2 or 3 seconds (which will give your ad network pixels time to load).
So using your favorite page builder, just go ahead and create this page, and then add your ad networks' custom audience tracking pixels for the new custom audiences you created in Step 1.
If you do redirect your Exclusion Page back to your landing page, make sure you do NOT include UTM parameters otherwise this could result in an endless redirect loop.
Step 3 – Set Up Your Click Shield Rules
Select
Click Shield
from the
Tools
menu on your main Campaigns dashboard.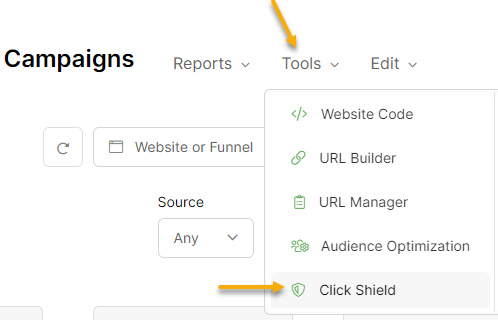 Set up one or more rules e.g.
Allow 1 click every 1 day
, or
Allow 3 clicks every 3 weeks
.
Every business is different, so unfortunately we can't tell you exactly what your rules should be. You'll have to decide what makes the most sense for you based on your ad spend, profitability and risk tolerance.
Be sure to enter the correct URL for your Exclusion Page that you set up in the previous step.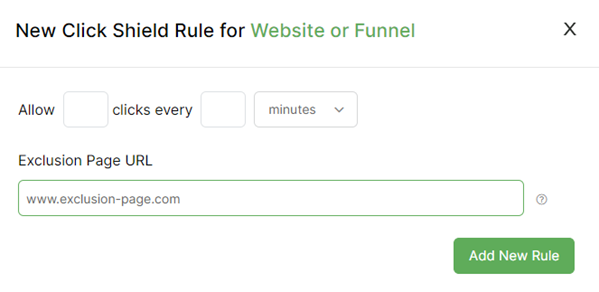 And that's all there is to it. From this point on Click Shield is a "set and forget" type of thing, and it'll just continue working for you in the background 24/7, 365 days a year to save you money.
We hope you enjoy this new feature, and that it saves you a ton of money. If you have any suggestions on how we can make it even most useful please let us know!