Frequently Asked Questions
The ClickMagick Knowledge Base is filled with hundreds of answers to questions that our users have asked, and we add new articles to the Knowledge Base on a daily basis.
The easiest way to find the answer to any question is to enter a sentence in the search box and search the Knowledge Base.
If you're just exploring ClickMagick and want to know what the most popular questions are in any area of ClickMagick, you can go to the Knowledge Base page and look at the topics listed on the left-hand side of the page: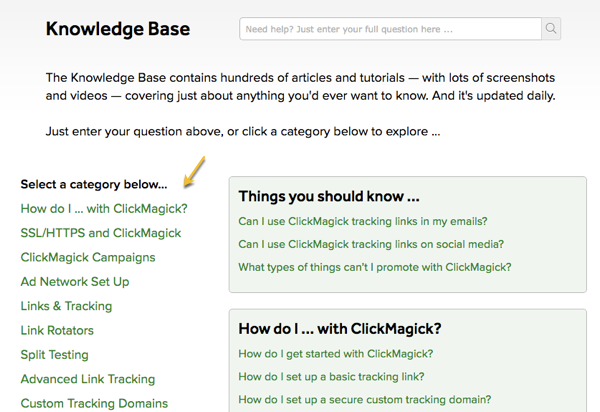 If you click on any topic, you will see a list of the Frequently Asked Questions for that topic.
Finally, if you need additional help, you can submit a ticket to our
Helpdesk
at any time and we'll be glad to answer that for you.
Article 566 Last updated: 07/12/2020 5:55:12 AM
https://www.clickmagick.com/kb/?article=566