How do I add tracking pixels or JavaScript code to LeadPages?
In this article, we're going to show you where to install tracking pixels and tracking code in LeadPages. But, before you read further, if you don't already have a good understanding of where to install tracking pixels on an HTML page, the rest of this document will make more sense if you review this article first:
Find the page you want to add a pixel to and click the blue "Edit" button on the right side. Once in the editor, follow these steps:
| | | |
| --- | --- | --- |
| 1. | | Click on the Settings option where it says "Lead Page Options" in the menu on the left-hand side of the page. This will display a pop-up window. |
| | | |
| --- | --- | --- |
| 2. | | Select "Tracking Codes" from the pop-up. |
3.

You will have the option to paste your pixels and code in the "Head" section, or the "End-of-Body" section.

Paste your HTML tracking pixels and in the End-of-Body section and paste your JavaScript tracking pixels in the Head section. You can paste your Sub-ID JavaScript code in either section.




If you are using LeadPage's Drag & Drop Editor, you can find instructions on how to insert tracking pixels and tracking code below:
1.
Select "Settings."
2.
Select "Analytics."
3.
You will have the option to paste your pixels and code in the "Head Section Tracking Code" or the "Immediately after the opening <body> tag" section.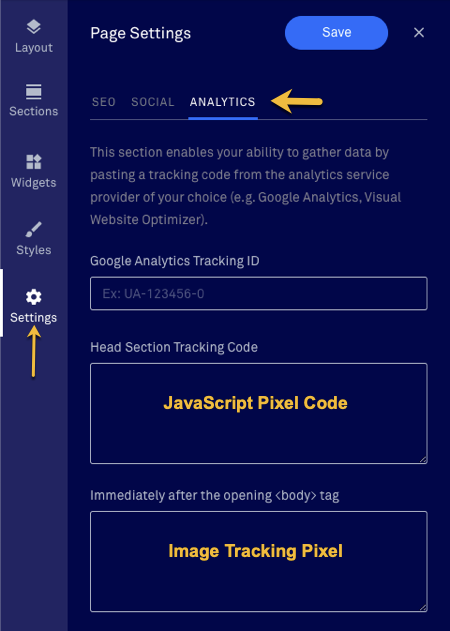 Article 591 Last updated: 04/02/2022 1:16:40 PM
https://www.clickmagick.com/kb/?article=591