How to track affiliate sales using a landing page?
ClickMagick provides you with two ways to start tracking your affiliate sales when using a landing page. This article explains how to get started with tracking sales in your sales funnel.
To get started with tracking your affiliate sales when using Campaigns you are going to need to follow a few steps.
1. Add your Click Tracking Code to your Landing Page:
Adding Your Click Tracking Code To ClickFunnels
Adding Your Click Tracking Code To Convertri
Adding Your Click Tracking Code To LeadPages
Tracking Affiliate Sales Using Builderall
Tracking Affiliate Sales Using Kartra
You can get your Click Tracking Code by clicking into the Campaigns Tools Menu and selecting Website Code: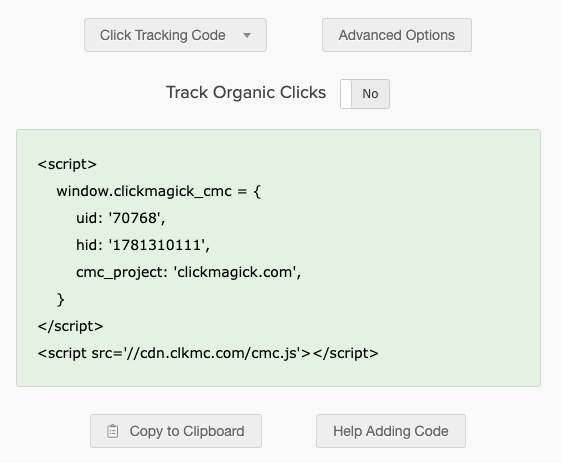 2. Add a Visitor ID to Your Affiliate Link using the Affiliate Link Builder
Head to the Campaigns
Tools
menu and choose "Affiliate Link Builder".

Next, select your affiliate network from the menu, paste your affiliate link into the edit box, set
Tracking Type
to Campaigns and click on the "Update My Affiliate Link" button.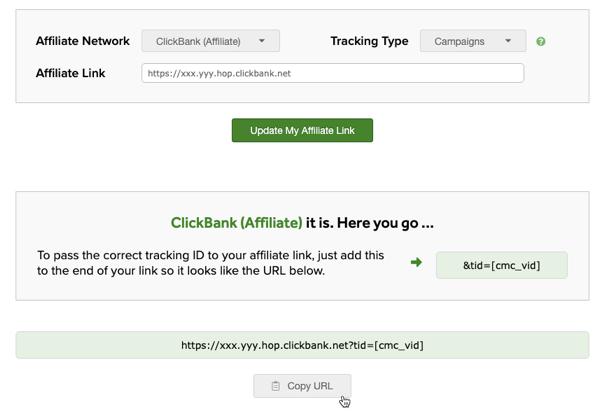 Finally, take the modified affiliate link and use it everywhere you would need it on your landing page
If you want to track button clicks, you set it up following the article below:
How do I track link or button clicks off my site?
3. Add Your Postback URL to Your Affiliate Account
To make sure that your affiliate sales get tracked inside of ClickMagick, you'll want to add your Postback URL to your Affiliate Account.
To do this, just go to the
Postback URL Tool
which you can find in the Tools menu under the subheading "Postback URLs". Type in the name of your network and click on the copy button next to the network that you're using:

The Postback URLs in your account will be different from what you see in the screenshot above, so copy the URL that you see listed in your account for the network you are using.
4. Create a UTM-Powered Link for your landing page using the
URL Builder: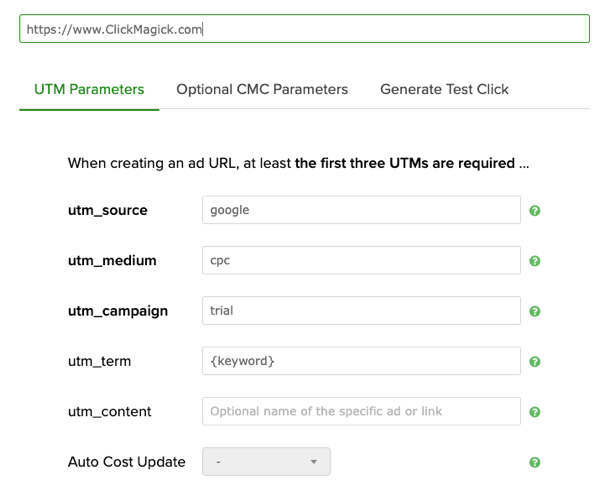 All you would do now is start to send traffic to your UTM link and you'll be able to see your affiliate sales on the Campaigns Dashboard.
Note: You do have the option to create a short link. It is optional and is not required in order to track your affiliate sales inside of Campaigns.
Article 684 Last updated: 05/20/2022 5:49:37 PM
https://www.clickmagick.com/kb/?article=684