How do I send conversions to Google automatically using Zapier?
You can use Zapier to send conversion data from ClickMagick to your Google Ads instantly using Webhooks.
To make this work you will need to follow the steps on using Audience Optimization with Google Ads.
To get started with setting that up, view the article on it here:
What is Audience Optimization and how do I use it?
Note: Google requires a 24-hour delay before processing conversions this way, so if you want to speed up the process you can import conversions manually.
Step 1 - Create your Webhook
Inside of Zapier, you'll create a new "Zap" with the Trigger being Catch Raw Hook which is available under Webooks by Zapier:

Copy your Webhook URL.
Step 2 - Create a Custom Postback
In ClickMagick, head to the Tools Menu and select Custom Postbacks.
Select Campaigns, the Project,
utm_source
,
utm_campaign
and your Conversion Type.
Add your Zapier Webhook, and add the following to the end of the URL:
?gclid=[gclid]&timestamp=[timestamp]
When sending sales to Google, you'll want to use:
?gclid=[gclid]&timestamp=[timestamp]&cmc_amt=[cmc_amt]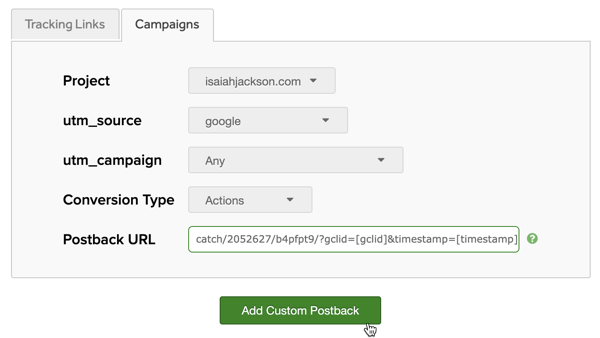 Add the Custom Postback.
Once it is setup, you'll want to generate a conversion. Can be a test conversion or wait until you have real conversions.
Step 3 - Complete The Zap
Back in Zapier you'll want to add the action Delay By Zapier.
Action Event:
Delay For
Time Delayed For:
24 hours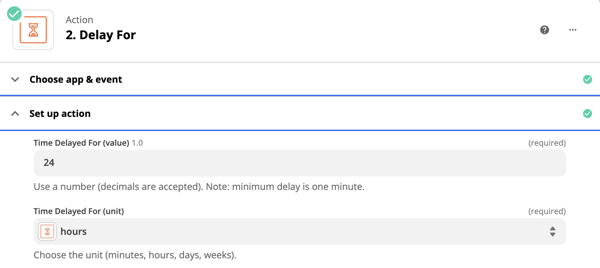 Finally, you'll add the event for Google Ads.
Action Event:
Send Offline Conversion
When setting up the action, you'll use the following:
Google Click ID (GCLID)
- Insert the Querystring Gclid from the Raw Hook you set up in Step 1.
Conversion Action
- Select the Conversion Action you set up when integrating Audience Optimization with Google.
Timestamp
- Insert the Querysting Timestamp from the Raw Hook you set up in Step 1.
If you are sending sales conversion:
Value
- Insert the Querystring Cmc Amt from the Raw Hook you set up in Step 1.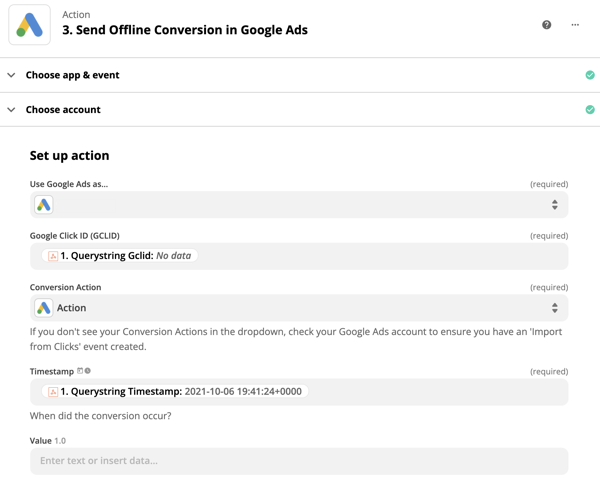 Once done, just click "Continue" and turn on the Zap.
That's it! When you get conversions, the conversions will automatically be sent to Google.
Article 750 Last updated: 11/14/2021 8:42:05 AM
https://www.clickmagick.com/kb/?article=750