Can I track order form impressions in MaxWeb?
Unfortunately, it isn't possible to track order form impressions in MaxWeb like you can in ClickBank and DigiStore24.
However, you can still track your sales.
Here's how;-
Step 1 - Add Your Postback URL Into MaxWeb
To get your Postback URL, head to the
Postback URL Tool
which you can find in the Campaigns or Tracking Links Tools Menu under the Postback URLs sub-menu. Click on the "Copy URL" button next to MaxWeb:

Inside MaxWeb, head to the Account Menu and select "Postback Pixels" and add a new pixel:

Step 2 - Add A Click ID or Visitor ID To Your Affiliate Links
If you are using Tracking Links, paste your MaxWeb affiliate link in the Primary URL field and click on the menu and select MaxWeb to automatically add the correct affiliate ID parameter.

If you are using Campaigns, then you'll head to the
Affiliate Link Builder
, select MaxWeb, set type to Campaigns, enter your affiliate link and click update: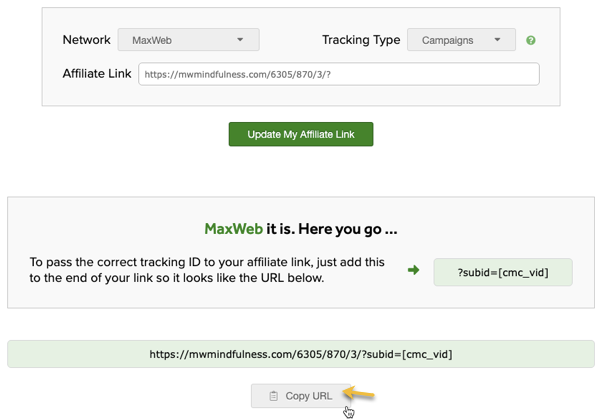 The updated affiliate link is what you'd use on your landing page with Campaigns.
That's it! Once you start sending traffic to your MaxWeb links, ClickMagick will automatically record the sales made.
Article 757 Last updated: 04/10/2022 9:51:05 PM
https://www.clickmagick.com/kb/?article=757