How do I set up a secure custom tracking domain?
By far, the simplest and fastest way to set up a secure tracking domain is to purchase a new dedicated tracking domain and then secure it using a free service from a company named
Cloudflare
. This article will show you how to do that.
You can watch the following video which takes you through all seven steps:
Or you can read through the steps below and you'll be up and going in a matter of minutes.
Step 1 – Purchase a New Domain
Before you can do anything,
we strongly recommend
that you first buy an entirely new domain to be used only for tracking,
especially if you already have a domain you use for your website
.
This is to prevent any potential errors with your existing page because we will need to add/change certain DNS records for this new domain..
So for example: if your current domain is
woodworking-mastery.com
, you can buy a
new
domain called
woodworking-methods.com
that will be used only for tracking.
GoDaddy
is a very popular domain registrar, as is
Namecheap
, but any registrar will work. A new domain shouldn't cost more than $10 per year. Just register the domain and ignore any "upsells" that they try to get you to buy, such as web hosting or private registration. All you need is the domain.
Step 2 – Sign Up for a Cloudflare Account
Now that you've bought your new domain, the next step is to set up an account with
Cloudflare
to secure your domain.
Go to
Cloudflare.com
and sign up for their free account. During the sign up process you will be asked for your new domain name, so just enter it here and click on "Add Site".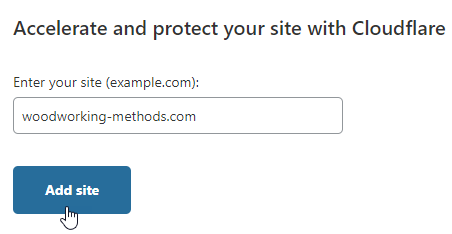 Then, select the "Free Plan" and click "Confirm Plan".
Step 3 – Add an "A Record" to your Cloudflare DNS settings
Confirm that you are using a brand new domain used exclusively for tracking with no existing content on it. Then delete any other A records you have showing in Cloudflare.
Note that your exact records may be different than what is shown here: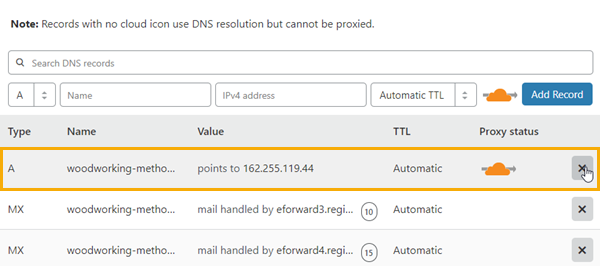 Next, enter the following for the DNS settings:
Type: A
Name: @
IPv4 Address: enter 50.97.212.250 if you are using tracking links, or 50.23.66.138 if you are using rotators, but not both.

Then, click on "Add Record" and then "Continue".
You
might
be asked what method you want to use to move your domain to Cloudflare. Just click on "Continue with default".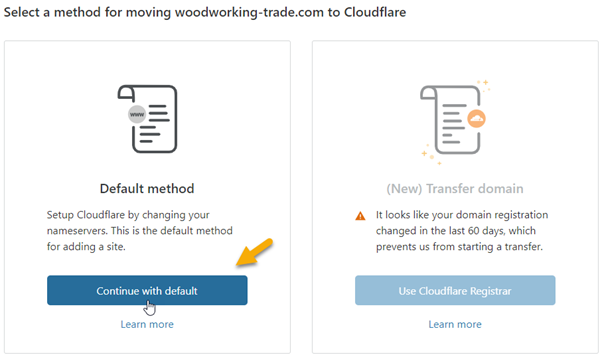 Step 4 – Point Your Domain Registrar Nameservers to Cloudflare
Next, you will land on a "Change your nameservers" page in Cloudflare.
The only records we care about are Cloudflare's nameservers: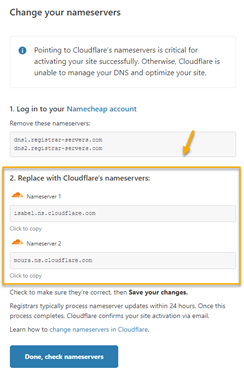 These are the nameservers in
our
example – yours will be different.
To make things easy to explain, we're going to assume that you've bought your new domain from
Namecheap.com
.
So go to Namecheap and click on "Manage" for your new domain.
Video Tutorials: Where Can I Edit Nameservers for My Domain Registrar?
Select "Custom DNS" from the "Nameservers" dropdown, paste in the nameservers and click "Save".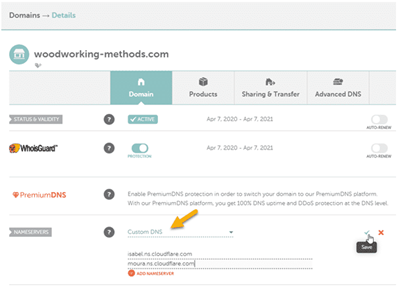 Once you do that, click on "Done, check nameservers" in Cloudflare.
Step 5 – Double-Check Certain Cloudflare Settings
Once you've added the DNS records to Cloudflare, you need to make sure the security certificate has been issued and the proper
https:
redirects are in place.
1.
Make sure that the SSL/TLS encryption mode is set to "Full".





2.
Scroll down just a little and make sure that "Always Use HTTPS" is set to "On".





3.
Scroll down to the very bottom and click on "Done".





4.
Lastly, click on "SSL/TLS" at the top of the Cloudflare interface and then click on "Edge Certificates":





Then, scroll down to the bottom and make sure that the "Automatic HTTPS Rewrites" is set to "On" as well:


That's it! You have now successfully set everything up inside of Cloudflare.
Step 6 – Add the Custom Tracking Domain to ClickMagick
Next, click on
Domain Manager
in the
Tools
menu and enter your
root
domain (without any subdomain or the
https
):

You have some options when adding your domain in ClickMagick. Just use the default options for now and click on "Add Custom Domain".
You can always go back and change your domain settings at any time using the
Domain Manager.
Note: Keep in mind that you might not be able to add your domain to ClickMagick right away. This is because it can take anywhere from 1 to 24 hours for the DNS records to propagate, so just give it some time and you should be able to add it then.
Step 7 – Add Your New Domain to Your Links or Rotators
The last step just involves adding this domain to your specific link or rotator, so make sure you have that set up first.
How do I set up a very basic tracking link?
To use your new tracking domain, click on
Links
or
Rotators
in the top menu bar, select the specific link or rotator, and add the custom tracking domain from the dropdown: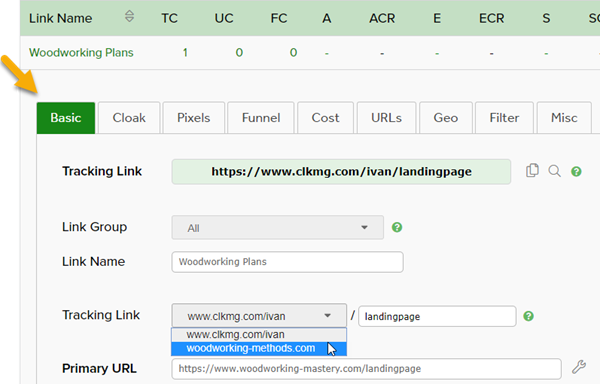 Click on "Save Changes" and that's it! You have now successfully added a secure custom tracking domain to ClickMagick.
Article 140 Last updated: 07/07/2020 12:27:52 PM
https://www.clickmagick.com/kb/?article=140