In this article, we're going to show you where to install tracking pixels and tracking code in the many popular page building tools. But, before you read further, if you don't already have a good understanding of where to install tracking pixels on an HTML page, the rest of this document will make more sense if you review this article first:
That being said, simply select your page builder to learn how to add tracking pixels or code to it!
Find the page you want to add a pixel to and click the blue "Edit" button on the right side. Once in the editor, follow these steps:
| | | |
| --- | --- | --- |
| 1. | | Click on the Settings option where it says "Lead Page Options" in the menu on the left-hand side of the page. This will display a pop-up window. |
| | | |
| --- | --- | --- |
| 2. | | Select "Tracking Codes" from the pop-up. |
3.

You will have the option to paste your pixels and code in the "Head" section, or the "End-of-Body" section.

Paste your HTML tracking pixels and in the End-of-Body section and paste your JavaScript tracking pixels in the Head section. You can paste your Sub-ID JavaScript code in either section.





If you're using Leadpage's Drag & Drop Editor, you can find instructions on how to insert tracking pixels and tracking code here:

First click "Page Settings" in the LiveEditor for the page you want to add a pixel to, then select "Other Scripts".
There are four places you can add pixels and tracking code depending on what you're adding. For ClickMagick pixels select "After
<body>
tag".
For JavaScript tracking pixels, select "Header". You can paste your Sub-ID JavaScript code in any section.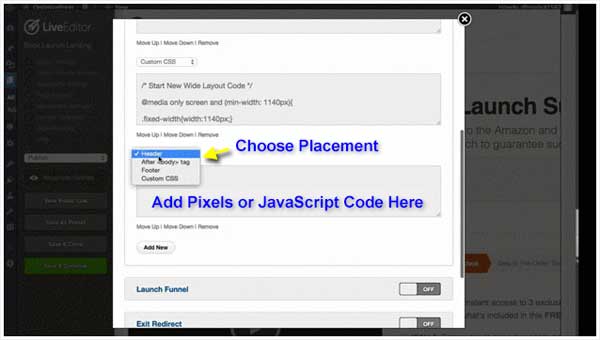 To add pixels or tracking code to an InstaBuilder page, enter the page editor and follow these steps:
| | | |
| --- | --- | --- |
| 1. | | Click on the Settings button in the upper-right corner of the page to open the Settings menu. |
| | | |
| --- | --- | --- |
| 2. | | Choose "Scripts/Codes" from the menu. |
3.
The "Scripts/Codes" panel gives you the option to paste your pixels and code in one of three places, the Head section, the start of the Body section, right after the <body> tag, and in the Footer section, right before the closing </body> tag.

You should paste HTML tracking pixels in the Body section. If you're using JavaScript tracking pixels, they should go in the Head section. You can paste your Sub-ID JavaScript code in any section.



To add a tracking pixel to a WordPress page simply edit the page in question, click the "Text" tab in the upper right-hand corner of the editor to switch to source mode, and then paste your tracking pixel code into the box as shown below …
A more powerful solution for WordPress is to install a tracking code plugin such as the popular "Tracking Code Manager." With this plugin, you can place tracking pixels or tracking code on any page anywhere without having to touch the pages themselves.
Just install the plugin, then install pixels and code from the plugin's settings.
To add JavaScript code to the "head" of a page you'll want to use Unbounce's Script Manager which you can find in the bottom left corner of the Landing Page Editor.
To add an image tracking pixel to the "body," just add a new code section to your "Thank You" page by clicking on the "
<>
" button and pasting it there …
The Script Manager will take you to the JavaScript editor where you can choose the placement of the code and insert the code:
To add a tracking pixel to the "head" of a page select "Settings" and then "HTML/CSS." To add a pixel to the "body" of a page, like you need to do with ClickMagick, just add a new HTML Element, click the blue "Edit" button and paste your pixel code there …
To add a sales tracking pixel to your Shopify order status page, just click "Settings" and then "Checkout." Then in the "Order processing" section just paste your tracking pixel into the "Additional content and scripts" box …
To include the order amount in your tracking pixel, just use this Shopify token:
{{ total_price | money_without_currency }}
If you want to include the order number as an ID or reference value, use this token:
{{ order_number }}
To add a conversion tracking pixel in Thrive Content Builder simply drag a "Custom HTML" element from the menu on the right side to anywhere on your page, click the green button, then paste your tracking pixel code in the box …


If your Page Builder isn't listed here, it's usually pretty easy to find instructions by searching online for the name of your Page Builder followed by the phrases "tracking pixel", "tracking code", and "JavaScript".

You'll often find not only written instructions for installing tracking pixels and tracking code using your Page Builder, but you'll also often find YouTube videos that will walk you through the process.

If you can't find anything online, contact the support desk for your Page Builder. They know their system inside out and should be able to quickly help you get set up and going.


What if there's no way to install the tracking pixel or tracking code on the page?

If you need to install a tracking pixel or some tracking code on a page, but there's no actual way to do that because you can't edit or modify the page, then you'll need to use an intermediate or "interstitial" page, or you'll need to use the Pixels setting of a ClickMagick tracking link. You can read all about that setup here:


Article 221 Last updated: 07/02/2020 11:48:31 AM