What should I know about ClickMagick's Live Chat Support?
We're excited to add Live Chat Support for users on our Standard and Pro plans. Here's how it works …
Live Chat is currently available an average of about 18 hours per day during the week, Monday through Friday.
We know that many of our users are working "overtime" to grow their business, often working in the evenings and on weekends, and we want to do our best to help. We don't have quite the same coverage on the weekends, but we do have team members who work over the weekends and will make themselves available as much as possible.
When anyone on our support team is available to chat, you'll see a green "chat bubble" in the lower right-hand corner of most pages. Just click the chat bubble and you can get help with most issues right away.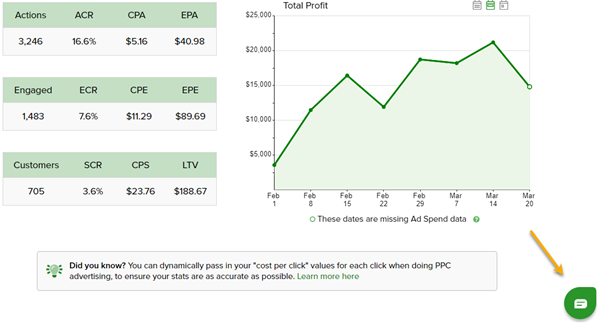 In some cases, if it's a complex issue that requires us to do a bunch of research, we may need to convert your chat into a Helpdesk ticket. This will give us a bit more time to research your issue and come up with a solution, and you'll generally get a response from the Helpdesk within a few hours at most.
Of course, you don't have to chat. If your issue isn't "urgent" or you don't want to chat you can also simply submit a Helpdesk ticket and we'll always respond in anywhere from a few minutes to a few hours.
What if I'm on the Starter Plan?
If you're currently on the Starter plan, unfortunately you won't see the live chat option at all.
We simply can't provide this type of fanatical support at the Starter plan level. If you want access to live chat support and faster response times, we encourage you to upgrade and get instant access to chat support.
Article 493 Last updated: 01/20/2021 6:48:32 AM
https://www.clickmagick.com/kb/?article=493