There are a few common causes of stats "discrepancies" with Campaigns that you should be aware of. For example the number of clicks or sales in your Campaigns stats may not exactly match what your ad network shows.
If you are experiencing a stats discrepancy, one or more of these reasons are likely the cause of the discrepancy.
Issue #1 – Differences In Counting "Unique" Clicks
The biggest issue is that the major ad networks don't publicly share how they determine a "unique" ad click, so it's unlikely that the number of unique clicks shown in ClickMagick will exactly match your ad network.
Based on the data, and based on public comments made by both Facebook and Google developers, they seem to allow roughly one unique ad click per user per day, so that's what ClickMagick Campaigns does as well.
But this isn't always exact. If a user clicks on one of your ads multiple times in the same day it's absolutely possible that Google or Facebook will charge you for more than one click from the same user on the same day.
This is unfortunate, but there's nothing anyone can do about it.
Overall the online advertising industry as a whole generally sticks to the "one unique per 24 hours" rule when it comes to measuring impressions and clicks, but at the end of the day ad networks like Google and Facebook can – and do – do whatever they want and you just have to deal with it.
There are two bits of good news here …
First, while this problem exists no matter which tracking system you use, it's just not that big of an issue. It affects all advertisers and all ads equally, and it doesn't happen often enough to meaningfully affect the accuracy of your stats.
Secondly, in the near future we'll have direct integrations with all the major ad networks which will allow us to automatically pull in your exact click and cost data from platforms like Google Ads and Facebook.
This is the ultimate solution to the problem, and this is a big priority for us so rest assured we're working on rolling this out for you just as soon as we can.
Issue #2 – Bots "Clicking" Your Ads
A bot is a software application that is programmed to do certain tasks. The types of bots you're probably most familiar with are Google bots that index the web so you can quickly find stuff you're searching for or scan your incoming email to protect you from clicking on malicious links.
But there are all sorts of "bad" bots too – and there are many bots designed with the sole purpose of clicking on paid ads on Google, Facebook, Bing and all the other major ad networks.
These bots could be "scrapers" which gather information about ads and webpages being promoted, they could be bots meant to generate fake clicks on your ads solely to waste your ad budget, or they could be bots designed to do all sorts of other things …
But the bottom line is that these bots can and do cause stats discrepancies because every platform, including Google, Facebook and Bing themselves, all deal with bots in different ways and with varying effectiveness.
Now while you'd expect someone like Google and Facebook to have highly advanced systems to protect you from this sort of thing, the truth is that their automated systems absolutely do not prevent or catch all the bots that are "clicking" your ads, and you are absolutely paying for some percentage of bot clicks.
ClickMagick has a world-class bot detection system that identifies many of these bots that slip through the cracks at the ad network level. These are separated from your main stats, and show in a separate bot report.
If the number of clicks shown in Campaigns is less than what is shown in your ad account for the same time period, be sure to check your bot report as you could have received – and probably paid for – clicks from bots that Google or Facebook thought were clicks from real people.
Many users have had great success taking the information and click logs we make available and using it to get refunds from ad networks.
Issue #3 – Existing Customers Repeatedly Clicking Your Paid Ads
Imagine the following scenario ...
A user clicks one of your Google ads and ultimately ends up purchasing your product. They forgot to bookmark your site, so a week later they type the name of your site or product into Google and click the first listing right at the top – which unfortunately happens to be your paid ad. They are just trying to get back to your site, but Google just charged you for – and ClickMagick just tracked – another "unique" click.
If you're not already aware of this problem you may be shocked to learn that instead of bookmarking their favorite sites, many users actually just use Google search to find sites they want to go back to.
Unfortunately when they search for the name of your site or product on Google, your paid ad is usually listed right at the top, and each time they click it you're getting charged over and over again.
If you took the time, and have the ability to really look in to this you may very likely find that there are many users who are doing this multiple times per week, and they are inflating your ad costs by a very meaningful amount.
Fortunately, we have created a fix for this that will allow you to block these people from clicking your ads again and prevent a LOT of wasted ad spend. Take a look at this article to learn how:
How can I prevent wasted ad spend when using Campaigns?
Issue #4 – Existing Customers Landing on a Page With the Sales Conversion Code
In addition to causing click discrepancies (and wasting your money), this can also cause issues with sales tracking if you don't have a traditional Thank You page to install the Campaigns Conversion Tracking Code on.
A traditional Thank You page is only seen once by a new customer when they make a purchase so it's the perfect place to install your sales tracking code. But what if for example you're selling access to a membership site and new users are immediately redirected into your membership area when they purchase, so you need to install the Campaigns Sale Tracking Code on the main page of your members' area?
Again, consider the previous scenario ...
A user clicks your ad and becomes a member of your site. The sale is recorded and everything seems fine. But then a week or a month later they want to get back to your site so they search Google and click your ad again ...
Maybe they forgot to bookmark your site, maybe they're on vacation using a different computer, or maybe they do it for any one of a number of different reasons. All that matters is that in some cases they may be treated as a new "unique" user when they click your ad again, so that when they get to your site, login, and access your members area another "sale" might be recorded in ClickMagick Campaigns.
Fortunately, Campaigns is quite flexible and there's a simple solution to this problem …
If you redirect straight into a members area or something similar, you'll simply want to remove the
cmc_goal: 's',
line from the code you place on the main page of your members area to track your sales, and instead pass in the
cmc_goal=s
parameter in the URL you use to redirect new customers into your members area.
It's this line right here …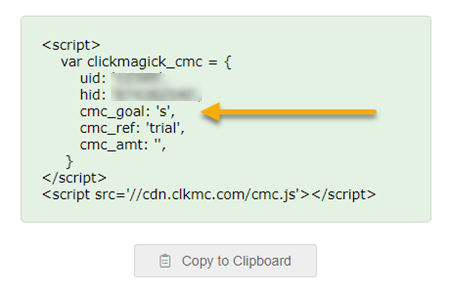 This will properly track a sale when a new user signs up, but it will NOT record duplicate sales when your existing customers use Google search and click your paid ads to get back to your site.